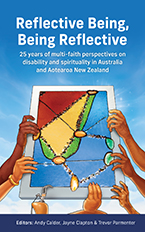 25 Years of Multi-Faith Perspectives on Disability and Spirituality in Australia and Aotearoa New Zealand
All Europeans coming to the Australian continent were challenged to begin their world anew, whether it was a First Fleet Marine's widow, a man convicted of High Treason, a Scottish prostitute, a Dane avoiding conscription into the Prussian army or a gold-rush family.
Those in this book were ordinary people taking on extraordinary challenges. What were they leaving behind? Why and how did they arrive? What then ...?
This book, edited by Andy Calder, Jayne Clapton and Trevor Parmenter, celebrates 25 years of the multi-faith disability and spirituality movement in Australia and Aotearoa New Zealand. Since the inaugural conference in Brisbane, 1996, a further five have been held. Arising from the conferences, this collection explores issues of faith and meaning in the lived experience of disability. Contributors explore a range of issues including: ethics, care, friendship, discrimination, inclusion, the National Disability Insurance Scheme (NDIS), love, justice, liberation and 'cripped' spiritualities.