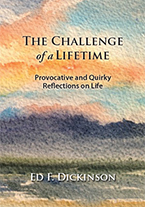 Provocative and Quirky Reflections on Life
In this book, Ed challenges thinkers of the 21st Century to consider new ways of understanding life and to find humour and purpose amid earthy realism. He tells of the struggles and challenges of his own life from boyhood to retirement.
Initially, part of this book was written for people who conduct discussions for rational non-religious debaters, hoping that regardless of their beliefs, occupation, or nationality, those who read the author's thoughts on how to train their minds to function sub-consciously will mature in their own fields of endeavour.